Diodhuset Sweden AB
We are a fast-growing company within modern vehicle lighting with unique product competence and customer service. We market a wide, affordable and in-demand range of environmentally friendly lighting solutions.
We work hard to always exceed your expectations of our customer service, competence and innovative, stylish and cost-effective lighting solutions for all vehicles, from the smallest enthusiast vehicles to heavy utility vehicles on roads, rails and water, in construction, agriculture, forestry and mines.
We do everything for you, from sales and customer service to product development and deliveries, so that you will be more than satisfied. We are here for you when you need support e.g. tips and advice when choosing a product and installation or if something should have gone wrong. Therefore, we also give you 30 days of open purchase and far-reaching guarantees, which you can read more about in our terms of purchase.
As a customer of ours, you can always feel 100% safe, both before and after the purchase. We promise!
As a producer in terms of the German ElektroG we are registered with the German registration authority Stiftung Elektro-Altgeräte-Register (Nordostpark 72, 90411 Nürnberg), having been granted the following WEEE registration number: DE 67395997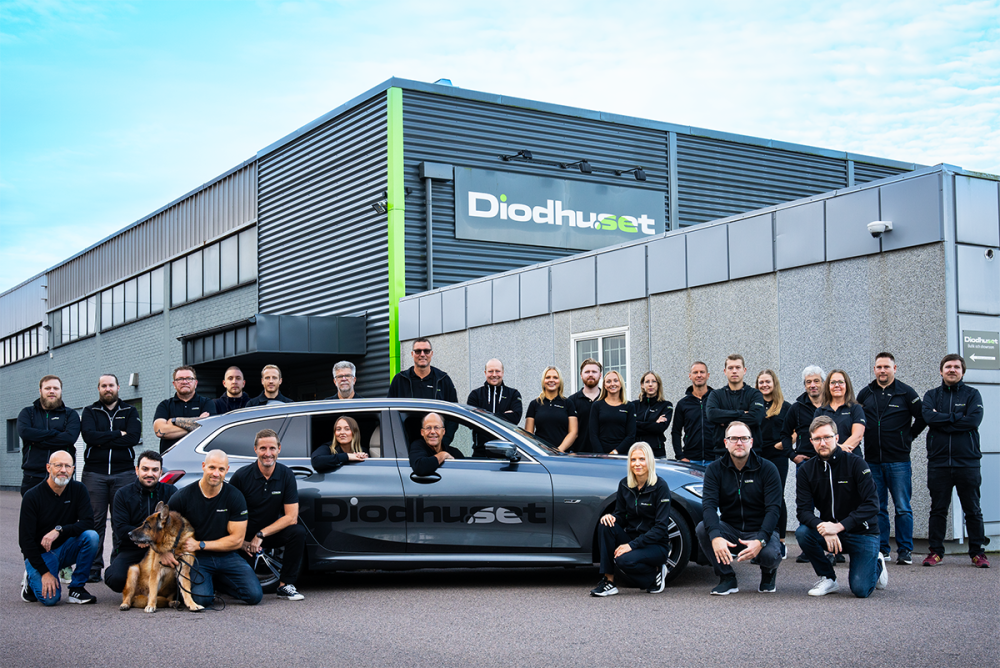 Jim
Field Sales Manager
jim@diodhuset.se
+46 42 453 33 32
Joakim S
Field Sales Manager
joakim.strand@diodhuset.se
+46 42 453 34 60
Jan-Erik
Field Sales Manager
jan-erik@diodhuset.se
+46 42 453 34 65
Håkan
Field Sales Manager
hakan@diodhuset.se
+46 42 453 49 16
Jonny
Export Sales Manager
jonny@diodhuset.se
+46 42 453 33 37
My
Team Leader Customer Service
my@diodhuset.se
+46 42 453 34 62
Jonatan
Customer Service
jonatan@diodhuset.se
+46 42 453 34 64
Maksymilian
Customer Service
max@diodhuset.se
+46 42 453 49 19
Richard
E-sales, Marketing & IT Manager
richard@diodhuset.se
+46 42 453 49 11
David
E-commerce Manager
david@diodhuset.se
+46 42 453 33 31
Andy
E-commerce Coordinator
andy@diodhuset.se
+46 42 453 34 68
Robin B
Marketing & Product Developer
robin@diodhuset.se
+46 42 453 33 36
Robin P
E-commerce Systems Developer
robin.persson@diodhuset.se
+46 42 453 49 13
Marcus
E-commerce Systems Developer
marcus@diodhuset.se
+46 42 453 33 34
Malin G
Marketing
malin.gustavsson@diodhuset.se
+46 42 453 49 17
Andreas
Purchasing Manager
andreas@diodhuset.se
+46 42 453 49 14
Magnus
Export Sales Manager & Product Manager
magnus@diodhuset.se
+46 42 453 33 33
Gabriel
Product Developer & Purchaser
gabriel@diodhuset.se
+46 42 453 34 61
Gabriella
Logistics Manager
gabriella@diodhuset.se
+46 42 453 34 67
Emil
Team leader Logistics
emil@diodhuset.se
+46 42 453 34 63
Fredrik
Warehouse
fredrik@diodhuset.se
Madelene
Warehouse
madelene@diodhuset.se
Fanny
Warehouse
fanny@diodhuset.se
Ellinor K
Warehouse
ellinor.kronholm@diodhuset.se
Qusaie
Team leader Production
qusaie@diodhuset.se
Casper
Production & Warranty
casper@diodhuset.se
Ellinor
Finance Manager
ellinor@diodhuset.se
+46 42 453 34 66
Malin
Finance, Warranty & Purchaser
malin@diodhuset.se
+46 42 453 33 38
Bengt
CEO & Sales Manager
bengt@diodhuset.se
+46 42 453 34 69